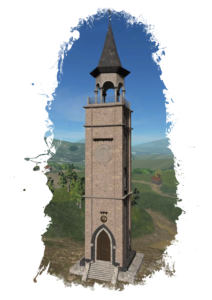 The Tower is a room-scale virtual-reality archery puzzle game. The player is in the place of a questing archer in an ancient tower searching for a route to the top.
The game uses room-scale VR with the HTC Vive which has the player interact the space they are in, forcing them to move around their area, using arrows to solve puzzles that will allow them to progress further into the mystical
tower.
Our Story:
At GDC 2016, I watched some very good talks on VR, including one about some of the research that has been done for VR, and that got me thinking about ways in which we could increase the apparent space available.
Many games increase the space available for the player by introducing teleportation. Teleportation is a great way to expand the player space to other rooms and increase it to include any size of space. The only problem is that once you add teleportation to get to the next room, players use it instead of taking a step or two as well.
All physical movement stops as players zap around the space.
We wanted to get players moving again, so we removed teleportation as an option. To expand our space, we introduced motion up into new areas. We stacked new playable areas on top of the previous areas. And The Tower was born.
We (Aaron, Ben, Chris, Michael, and Nelson) formed a team and joined a government programme called Tranzfuser and made a demo for our game in the evening while we were finishing our Master's degree's at Abertay University. We had the opportunity to demonstrate the game at Dundee's Protoplay and at the NEC at a show called EGX. Some of the comments and videos from players can be seen below.
Our team was chosen as one of the top six teams in Tranzfuser, and we were offered the chance to directly pitch for a UK Games Fund award. That led us to being granted an award.
Now we just have to finish the game!
Some of the Praise for The Tower:
"It took my breath away"
"I hade seen people do it over and over and I thought it's probable not going to be that scary, but it really is; it really is!"
"I hope you guys get [the UK Games Fund] because I really want to play this!"
"This is the best thing I've done at EGX"
"Incredible experience, a must play for both fans and newcomers of VR"
"Great experience!"
"An amazing experience, especially the sections where you are walking on the boards."
"A fun archery puzzle game"
"Awesome"
"Utterly surreal and realistic"
"If Robin Hood met Ezio Auditoure taught each other their skills and had a love child that they trapped in a tower this would be that love child"
"Intuitive and fun"
"An awesomely surreal experience"
"Fun archery at freaky heights"
"Realistic, so much fun! Definitely worth buying."
"Pretty damn good and worth playing."
"Incredible like no other"
"Awesome funniest scariest safest experience ever"
"Amazing and so realistic"
"Brilliant"
"Awesome experience"
"Bloody brilliant"
"A very realistic and immersive environment"
"Immersive, unique and interesting"
"Amazing, different and sometimes scary."
"Good luck, I think you lot could make something incredible. Keep up the great work"
"Game is unbelivable"
"It was really fun, I was felt like I was genuinely going to fall when climbing. I would play again."
"First timer on the device. Awesome experience."
"Really fun experience"
"Incredible"
"Fantastic"
"It was awesome!"
"The depth within the game works really well with the tech."
"Game was amazing"
"Really good fun!"
"Really great experience, my legs genuinely were wobbly when walking over the wooden boards!"
"Keep doing what you're doing ? This was truly in amazing experience"
"Great work!"
"Great game :)"
"A really good game with great detail and it's really realistic. The feedback from pulling the bow back etc was a great addition and made it feel really real. I would definitely buy if I get a Vive. Great job guys :)"
"Very impressive first vr experience"
"Great work!"
"Thanks for the experience, keep doing what you're doing :)"
"This game is truly the future, don't stop making these they're so fun!"
"Loads of fun best experience at EGX"
"Keep going! :)"
"Good Job"
Videos can be found on our Reviews page.
Some Screenshots: